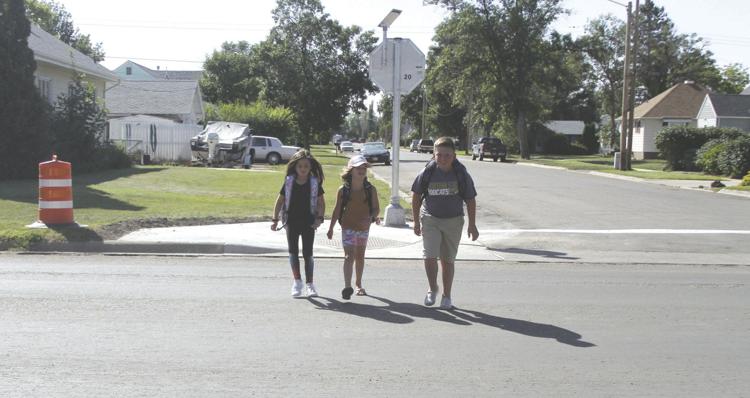 The issue A large amount of pedestrian traffic, mostly from the school, was causing a safety concern on Lincoln Avenue. The city, utilizing the intersection of Lincoln Avenue, 4th Street SW and 4th Avenue, created a four-way stop. Many vehicles drive upwards of 35 mph down Lincoln Avenue, a residential 25-mph zone. Northbound traffic using Lincoln often took the slight right onto 4th Avenue at speeds exceeding the limit, making it a dangerous crossing for school children and others. "It just wasn't safe for kids to cross," said Jeff Hintz, Sidney Public Works Director. "Over the years, we've experienced a lot more traffic down [Lincoln]. It was time to make this safer." Hintz said the erratic speeds of drivers on Lincoln and increased traffic forced the city to solve the issue. About a year ago, Hintz passed out flyers to homes within a one-block
The issue
A large amount of pedestrian traffic, mostly from the school, was causing a safety concern on Lincoln Avenue. The city, utilizing the intersection of Lincoln Avenue, 4th Street SW and 4th Avenue, created a four-way stop.
Many vehicles drive upwards of 35 mph down Lincoln Avenue, a residential 25-mph zone. Northbound traffic using Lincoln often took the slight right onto 4th Avenue at speeds exceeding the limit, making it a dangerous crossing for school children and others.
"It just wasn't safe for kids to cross," said Jeff Hintz, Sidney Public Works Director. "Over the years, we've experienced a lot more traffic down [Lincoln]. It was time to make this safer."
Hintz said the erratic speeds of drivers on Lincoln and increased traffic forced the city to solve the issue. About a year ago, Hintz passed out flyers to homes within a one-block radius of the intersection inviting residents to an informal meeting at city hall. He said they informed residents of the plans and people were thought it was a good idea.
What's new
The intersection is now a four-way stop, with solar-powered stop signs. Originally the city installed five stop signs, but after some observing and a request from the local post office, agreed a yield sign made better sense for where 4th Street SW meets Lincoln.
Trees were removed along Lincoln and 4th Street SW, which were in the city's right-of-way. Visibility has now been improved, Hintz said, and the city has plans for new curb and gutter along from 4th Street SW around the corner of Lincoln.
A large sidewalk structure now exists at the intersection, which was intended to line up 4th Avenue with Lincoln. Hintz said back when Sidney was originally being designed, roads ran perpendicular and parallel to the railroad tracks. As Sidney grew, Lincoln Avenue served as a sectional line, causing off-set intersections. The new four-way stop attempts to alleviate those uneven streets.
Landscaping will be added to the sidewalk structure this fall. Repaving of Lincoln Avenue will be done at the hands of Montana Department of Transportation (MDOT). As part of MDOT's Urban Street Improvement project, 9th Avenue SW, 14th Street SW, Lincoln Avenue and 5th Street SE will all be repaved by the state.
Adjustment period
While some citizens have expressed disdain for the new four-way stop, Hintz said he sees it getting better everyday.
"When they put the four-way stops in at 9th and 5th and 7th and 4th, people hated them. Now it's just in everybody's mind to stop. ," Hintz said. "People get used to it over time. It's tough for people in a small town like this to change. But the whole purpose is pedestrian safety."
Chief of Police Frank DiFonzo told city council at the last regular meeting he believes the intersection will serve as very functional.
"Every time we've ever put any four-way intersection up, we go through growing pains," DiFonzo said. "While I was standing over there Friday, people that were living on that street were coming out and commenting on how they were appreciative of how we were finally doing something about it."