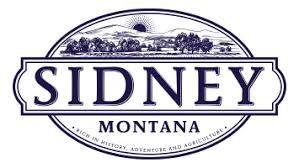 Sidney Chamber of Commerce's CVB committee met Thursday, July 25, to discuss area tourism, available grant dollars from the state and wayfinding signs. Bill Vander Weele, executive director of the chamber, told the group they had been given the green light from city council to work on bringing in wayfinding signs for Sidney.
"We want to know what signs people want," Vander Weele said.
Cheri Friedman, executive director of MonDak Heritage Center, said she would like to see some maps at points of interest around town in the "you are here" style, showcasing other stops in relation to, for example, the heritage center. Chamber communications manager Sarah Turek said she had worked on something similar already this year, showing Sidney as the hub on a map and listing activities or possible attractions within a one to two hour range.
"That's exactly what I'm talking about," Friedman said. "That's what I would like to see."
Committee member Lindsey Lawrence said she would like to see wayfinding signs for area fishing access points, fairgrounds, Fairview bridge and the two disk golf courses located in Richland County.
No final decisions were made on signs, but the project will forge ahead, funded by CVB dollars.
Eastern Montana Initiative
With grant dollars available for the state to promote eastern Montana tourism, CVB brainstormed on what kind of projects they could pitch for the funding.
The program, called the Eastern Montana Initiative, awards funds to projects "demonstrating sustained investment in tourism infrastructure and promotion, supporting long-term growth/stability in growth policy, and community development." The program aims to spend a total of $750,000 in eastern Montana.
"They have a marketing and promotion for out-of-area residents and non-residents visiting in the area," Friedman said. "That to me is the one we really need to take a good look at."
The first round of applicants are due by Aug. 5 and grant funds will be issued on a first-come, first-serve basis. Funds will be offered throughout the year, but the earlier the applications are in, the better the chance for receiving money.
"We have a good possibility of going after some funding and getting it," Friedman said. "Especially if we do it as a collaborative with groups in the area."
Vander Weele said Sidney Chamber of Commerce Past President Jeremy Norby and other board members are working diligently on a tourism project centered around eastern Montana fishing to receive grant funding. They are currently partnering with Glasgow Chamber of Commerce for the project.
In other news:
Fred MacVaugh with Fort Union notified the committee of their upcoming Northern Plains Oyate Traditional Wacipi. It's the events second year and MacVaugh said last year they drew several hundred attendees, but hope to grow it into an event that draws thousands. Friedman said she would like to be able to display some of the Native American art at MonDak Heritage Center to help promote the event in the future.
The chamber has an app and are working on updates before releasing it for download. It will be a collection of hotels, restaurants, attractions, community calendar and maps for the area.
Friedman said she is on the search for welders, as there are some statues on display that need to be secured with extensions. She also said she would like to place a piece of equipment representing the oil field outside the heritage center, like a 3- to 5-feet tall pumping unit.