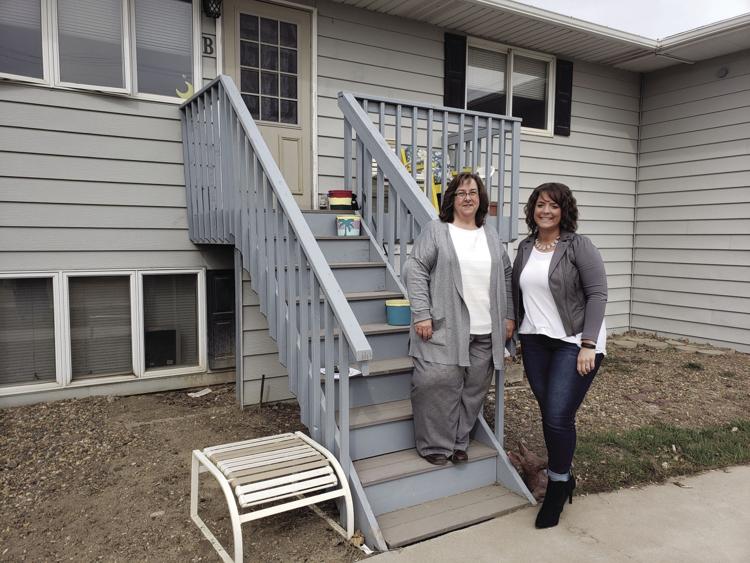 The Richland County Coalition Against Domestic Violence is homeless no more. The program has landed, thanks to some very generous donations, in a spacious new location, with four, two-bedroom apartments.
The new facility includes a garage that will be perfect for sorting out donations, and an area that can serve as temporary office space until the facility is paid off. It also has a nice backyard area, as well as a large shed or two for storage.
Director Helen Scmitt said the space is perfect for the program's needs.
"It's been well taken care of and recently remodeled," she said. "So eventually we will have wonderful space for our program."
A $25,000 donation from ONEOK and a recent $20,000 donation from the Dennis and Phyllis Washington Foundation helped the Coalition afford a $150,000 downpayment on the new four-plex, located at 1401 Ninth Avenue Southwest.
There were $80,000 in local donations which were vital as well.
Initially, the program will have temporary office space just behind the garage area, just while the facility is being paid off. Three of the four apartments are being rented out to provide a funding source to pay off the facility. That leaves one apartment, with two bedrooms, to provide shelter for families who need it.
"We provide 640 shelter nights a year on average," Schmitt said.
Obviously, that is more than one apartment can provide. The Coalition will also use motel rooms as needed during this transitionary phase.
Schmitt said the group will continue fund-raising efforts, to try and accelerate payoff of the facility, which based on the current revenue stream, is on a 20-year loan.
"We'd like to have this paid off much sooner than that," Schmitt said. "We'd like to get it paid off in less than 10 years, if we can, so we can use all the apartments for the program."
Richland County Coalition Against Domestic Violence provides many services besides emergency shelter. They also provide assistance with things like orders of protection, and they have an attorney who can help with parenting plans and things like that. There are support groups, and volunteers who are willing to help survivors of domestic violence find their way through the legal system.
"We do about 60 orders of protection a year," Schmitt said.
In addition to helping with the initial trauma caused by domestic violence and providing shelter, the Coalition helps the survivors plan what's next in their life.
"People often need more than just emergency shelter care for a week or two," Schmitt added. "They may need a place for a few months. Paying the loan off early will allow us to have the freedom to do that."
Rebuilding a life takes time.
"It doesn't happen as quickly as we think it should," she said. "It takes a while to work and build up a down payment or rent deposit. And that has become pretty hefty around here."
Once the facility is completely paid off, three of the apartments will be used to provide shelter, and one will become an office. The temporary office space will become group space for programs like support groups and so on.
"I think this will work wonderfully for us," Schmitt said. "We are all very happy."