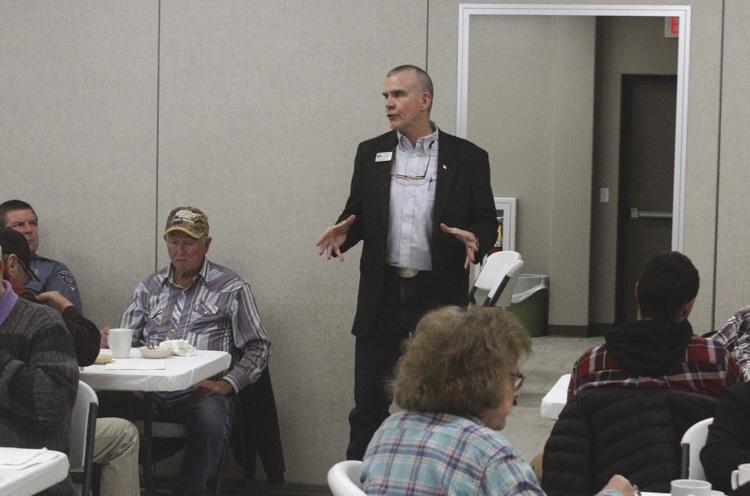 An effort to raise awareness for scam and fraud tactics came to Richland County on Wednesday, Oct. 9, when Matt Rosedale, commissioner of securities and insurance for Montana, stopped by the Senior Citizen Center in Fairview. Rosedale and his team presented to senior citizens about exploitation, ways to spot illegal schemes and general advice to avoid falling victim.
"What we have is a situation where 20 percent of the population of the state of Montana are seniors," Rosedale said. "You control about 70 percent of the state's assets. A harsh reality is you have become extremely large targets for unscrupulous people that want to perform scams."
Lynne Egan, deputy securities commissioner, presented information to attendees about Ponzi and pyramid schemes, real-life examples of such schemes in Montana, illegal investment practices and how to check their legitimacy — call the Montana Commission of Securities and Insurance at (406) 444-2040..
Locally, Sidney Police Department Capt. Mark Kraft said they've been dealing with reports of scams and frauds for some time.
"It's unfortunately been a pretty constant subject that we've dealt with," Kraft said.
A large variety of scams frequently circulate the area, from telephone to email and social media.
"Family with More Freedom, in fact, just this weekend had something I thought was suspicious," Kraft said. "It was an advertisement for French bulldog puppies at what seemed to be a low price. The seller wanted communication through WhatsApp."
Kraft explained rare or highly desirable breeds of dogs at low prices and unusual communication requests should raise red flags.
Scammers don't stop there. Recently there have been calls in the area from people impersonating Sidney law enforcement, requesting payments of varying degrees, possibly for bail of a family member or unpaid parking tickets, or asking for personal information.
"The scammers impersonating the Sidney Police Department officers or claiming to be with the Sidney Police Department, I'd say that's a recent development within the last year or so," Kraft said.
More commonly, law enforcement is aware of phone calls from people claiming to be with the Social Security Administration or the IRS. Those calls often advise people of potential warrants for arrest if a fee isn't paid immediately.
"That's just not how law enforcement works," Kraft said. "No legitimate law enforcement organization would ever demand any sort of monetary payment over the phone or in person."
Text messages requesting payment of fines are also not commonplace by legitimate law enforcement agencies.
"Law enforcement agencies themselves will never solicit a payment," Kraft said.
He said during a traffic stop, people have the ability to pay their bond on the spot to the officer roadside and will receive a receipt, but such a payment is never demanded. It's just an option for the motorist's convenience.
"Any request from a law enforcement agency asking for money or demanding money, threatening a warrant for somebody's arrest in exchange for money — always a fraud," Kraft said.
In the instance of an unpaid parking ticket or fine, the jurisdictional court would issue a warrant for arrest.
"There might be occasions where law enforcement might call and say, 'Hey, you have a warrant. You need to go up to the court and take care of it,'" Kraft said, but reiterated they would never ask for the payment themselves.
To a large degree, victims of telephone scams are the elderly. Kraft said that can often be because of lack of understanding of how the system works and because the older population typically has more immediate cash available.
"They've had a lifetime to earn money and pay off homes and typically have a little more money than younger folks who are making their way in life," Kraft said.
Recently, U.S. Census-geared scams have also become prevalent. Things the U.S. Census Bureau will never ask for includes a full social security number, money/donations, anything on behalf of a political party, bank or credit card numbers, or your mother's maiden name.
More tips on how to spot U.S. Census fraud can be found at census.gov/programs-surveys/surveyhelp/fraudulent-activity-and-scams.html. Other websites to help spot scams are fraud.org and scamawareness.org.
Awareness is the best tool to fight scammers. Many don't report such situations out of embarrassment or fear. It's important to remember it's highly unlikely the scam hit only one person. Coming forward could help prevent others from falling victim too.