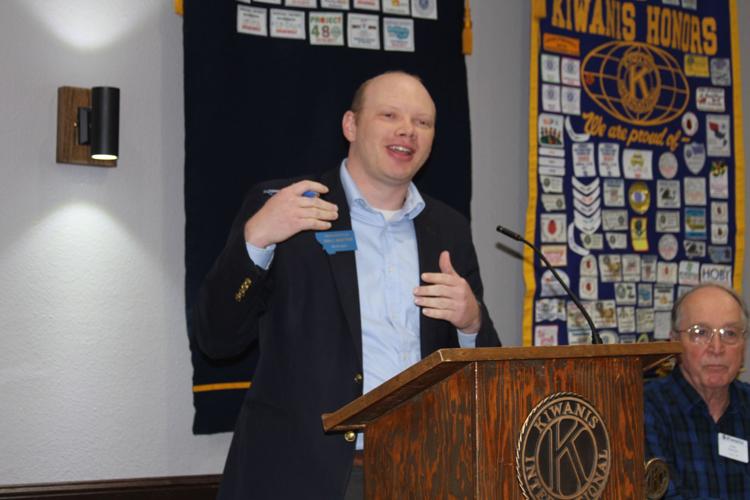 With the most recent Legislature session ending, Rep. Joel Krautter spoke at a Kiwanis meeting about all the bills he sponsored. One of those bills being HB 405, also knowns as the "Catch and Keep" bill.
With a further look into HB 405, Krautter took the time to explain in depth what the bill is, what they hope to achieve from the bill and what he plans to do to get it passed in the next Legislature session. The Catch and Keep bill is aimed toward incentivizing skilled young professionals to live and work in rural areas.
"I think young people, college students, they go off to college towns. After graduating, those towns are full of young people and that lifestyle is something that draws young people in," Krautter said.
Krautter said he's spent some time talking with college students and a lot of them would like to get back to rural areas. He also said across the country, millennials are tending to leave rural areas for urban areas.
"It's a complex situation. There's a lot of reasons that lead them to urban areas," Krautter said.
Krautter said that the Chamber of Commerce is going to be doing an economic outlook for the state of Montana this summer in July and August.
Krautter also talked about the demographic changes and the fact that baby boomers are reaching retirement and there aren't a lot of young professionals to fill those vacancies in rural America.
Krautter feels with rural America declining, there tends to be more consolidation. An example he used was Brady, Montana, and the high school there closing down. Because of that, students now have to travel to Dutton to go to school.
"When a town is in decline, when a town is dying, it becomes harder to recruit to that community," Krautter said. "Who wants to move to a town that's dying?"
While HB 405 died, Krautter said he plans to fine tune the bill and try again next session. HB 405 had the support of CPA Association of Montana, the state bar, the Montana Chamber of Commerce, schools, students, the farmers union, Montant retail association and many more.
"We had a coalition of about a dozen people supporting this bill," Krautter said.
Krautter said he feels they encouraged the bill well and raised awareness of the situation. On the up side, he said that Sidney is doing better than most rural areas of Montana.
HB 405 states "rural Montana is in desperate need for skilled professionals to ensure continued sustainability and survival."
Krautter added to that saying people rely on doctors, nurses, teachers, CPA's, attorneys and many other professions. With the lack of skilled young professionals, it raises the question of who will fill these vacancies.
"It's all those professions that make our community what we are," Krautter said. "We depend on people with trade degrees."
If there isn't anyone to fill those spots, that's when small towns start losing schools and local hospitals, creating a negative impact on a town.
"We see a lot of people at or around retirement and not many people coming up behind them to take the position," Krautter said.
HB 405 states the recipients of the grants under the program can utilize grant money the best way they see fit. Some options of how the grant money can be used are things like payments on student loans, house down payments, relocation expenses, business startup expenses or other debt reduction or living costs.
"We wrote it that way, no strings attached, because we realize not everyone is in the same position. Not everyone has student loan debt," Krautter said.
The way that HB 405 is written, county commissioners must pass a resolution to participate in the program and become a qualifying county. The state will provide 50 percent of the funding, the county commissioners would be responsible for 25 percent and another organization such as economic development would put up the remaining 25 percent.
The pilot program would have allowed for $500,000 to be set aside for the Catch and Keep program funding. In order to receive funding, a person would have to commit to living and working in their chosen rural area for five years.
Krautter said this bill is based on one from Kansas that seems to be working well for them. He's modeled this bill after theirs. In Kansas, through the program 56 percent stayed for the full five years. Of the 56 percent that stayed, 100 percent of them were still in the county in year six.
The bill also talks about filling priority professions. Krautter gave examples of them such as health care professionals and teachers.
If someone were to leave before their five years were up, they would be responsible for paying the state back half of what they would have received had they stayed.
Krautter said they aren't too worried about having a large number of people not follow through and finish out their five year commitment.
"People who go to college and get degrees are generally responsible people. The chances of them skipping out and not paying the state back are lower than if it were just a random person," Krautter said.
Another incentive is that after the third year, participants in the program qualify for property tax credit.
"We want to encourage people to invest in the community where they're living and buy a house," Krautter said. "The whole purpose is not to get them to stay just for five years but to get to know the community and build relationships. We want to make them want to stay beyond that five year period."
Krautter said that if anyone has questions or ideas on HB 405 he's always happy to have input. He can be reached by email at joel.krautter@mtleg.gov or by phone at 406-560-5952.