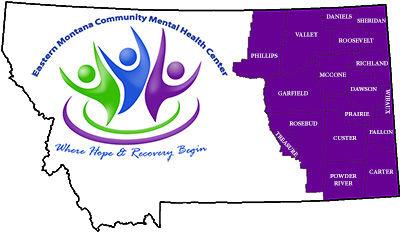 Eastern Montana Community Mental Health Center (EMCMHC) has expanded into eastern Montana, now serving the Glendive and Sidney regions. The program fills in the gaps left behind when District II lost funding
"The closing of District II was originally planned for a merger," said Amanda Brown, who was formerly with District II and is now overseeing the merger with EMCMHC. "The merger fell through at the last hour."
The lack of services became a point of concern for people in the far reaches of eastern Montana. EMCMHC swooped in at the 11th hour to help.
"At that point I was reached out to by the CEO here at Eastern Montana Community Mental Health about what we could do to kind of help fill that gap," Brown said.
Offices expanded to Glendive and services expanded to Sidney. Brown said there likely won't be the same amount of office expansion in Richland County, but they are working to coordinate additional staff for the area. That includes licensed addiction counselor (LAC) Donald Bauman.
Bauman works with ACT programs, Prime for Life and minor in possession (MIP) programs. He is based in Glendive and comes to Sidney Mondays and Fridays on a weekly basis. The ACT program is a court-ordered class people take if they get a DUI. Prime for Life is used in similar circumstances and can also address drug use.
"I work mainly through the courts," Bauman said. "Probably 95 percent of my clientele is from court. That's what my background is in, the department of corrections."
A courtroom referral is not a program requirement, however, and they are set up to help anyone in need with chemical dependency (CD) or otherwise. Referrals can also come from individuals leaving incarceration, on probation or coming out of treatment and require continued care.
"They don't have to be through the courts. We can do CD programs for anybody, that's just the main source of what it's been so far," Bauman said.
Brown said EMCMHC is currently working on getting the word out about their services. As the expansion settles in, they will be looking to bring on a full-time LAC for the Sidney area.
"Donald is also a certified anger management specialist (AMS), so he's going to be able to provide anger management services to the area as well," Brown said.
Bauman said they will also be working with cognitive behavioral addiction as well.
"There are only two kinds of addiction: substance abuse and behavioral," he said. "We're going to be doing regular CD counseling of course, anger management. We are going to be getting more into CPNR, which is cognitive principle and restricting. That would be through the courts."
Bauman said they hope to bring in a program called Thinking for Change, which he would like to see replace CPNR. That decision is ultimately left up to the court systems.
"It's a much more friendly program," he said. "CPNR is designed to prevent recidivism. It's a very rigid structure and it's usually a 40-hour program."
EMCMHC will also provide evaluations for people who need them for legal purposes.
The availability of addiction counseling in rural communities is extremely important, Brown said, as Montana in the throws of one of its worst drug epidemics.
"We have a lot of individuals in need," she said.
While there are a few options now around Sidney and Glendive, at this point, they are all welcomed additions from those in the industry.
"There are only so many hours in a day to see individuals. I think anything that can come in and help fill that gap, the more the merrier at this point," Brown said.
Ultimately, everyone is on the same side against addiction.
"The goal is always the same and that's to provide help for people in need," Bauman said.
Brown said from a strategic standpoint, getting services established is a top priority, along with accessible information. But there's much more to it than what's on paper.
"It's making sure that people have resources available, but no one's stuck battling with something like addiction or substance use completely on their own," she said. "Making sure that it's there, it's affordable and it's accessible to individuals."
To contact EMCHMC with questions, information requests or appointments, call 406-433-4635, weekdays from 8 a.m. – noon, and 1-5 p.m. Offices are located at 1201 West Holly, Suite 4. In Glendive, call 406-377-6075, 8 a.m. – noon, and 1-5 p.m., located at 2016 N. Merrill. The crisis line number is 40-377-6074.