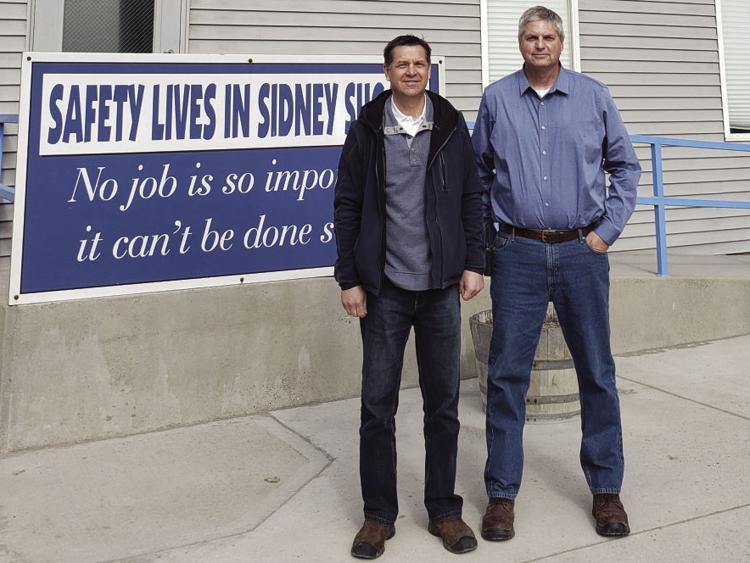 American Crystal plans to keep operating its Sidney factory for the foreseeable future, according to Brian Ingulsrud, vice president of Agriculture for American Crystal.
Ingulsrud came to Sidney to address employees at the factory in person he said, and to respond to a recent article published in the Sidney Herald that said growers were displeased with their most recent contract, and feared that the company might be planning to close the plant.
"I want people to know that our plan is to continue operations at the Sidney factory," he said. "And I think some good evidence of that being the case is that we are spending about $3 million in capital improvements this summer at the factory. That is the most we have spent here in several years."
Among those improvements will be $1.5 million on a diffuser bull gear, Ingulsrud said.
"It's a very large gear," he said. "It's a project that generally will just help to improve the reliability of the factory."
The company also plans to put about $1 million into improving its waste water system, to reduce the amount of organic material discharged into its water.
"We are also continuing to upgrade electronic controls," he said. "That's sort of a theme. We will be continuing that. It's a good way to again improve the reliability of the factory."
Last year's capital improvements totaled $1.7 million, Ingulsrud added. A majority of that was spent updating the plant's pebble lime system, which is used to purify sugar extracted from beets. Plant manager David Garland said the upgrade has proven to be very successful.
"We will continue to put investments into the factory to improve operations," Ingulsrud said. "It is a continuous process."
Ingulsrud acknowledged growers' frustration with the contract, which is lower than it has been in years past.
"That was something we needed to address because over the last five years we've not made money at this factory," Ingulsrud said. "The cumulative profit over the last five years has been negative."
Addressing that disparity was necessary to keep the plant open.
The company has contracted 31,606 acres — close to last year's 32,000 acres. Eighty percent of that is planted.
Ingulsrud acknowledged that they had negotiating with Big Sky Cooperative to sell the factory to growers. Those talks have fallen through, Ingulsrud said, and appear to be at a permanent impasse.
"When it became clear that a sale wasn't going to happen, both parties turned their focus to renegotiating the grower payment," Ingulsrud said. "Our goal is to have operations continue here, whether the factory is owned by growers or American Crystal. But once the sale didn't occur, we needed to have some sort of change to address the fact that we hadn't been profitable for the last five years."
Garland said factory employees sometimes feel caught in the middle during negotiations, which makes for a difficult situation.
"But we are very pleased to continue working under American Crystal," he added. "And our main focus is to continue operating this factory for many years to come."
Given the future prospects of Westmoreland, the coal mine where Sidney Sugars presently acquires its coal from, Ingulsrud said they are looking at whether to transition to natural gas or obtain coal from other sources.
Sidney Sugars is one of two customers that Westmoreland sells to, the other being MDU, which is the largest customer. MDU has recently announced that it will close its Lewis and Clark coal-fired unit in Sidney by 2020.