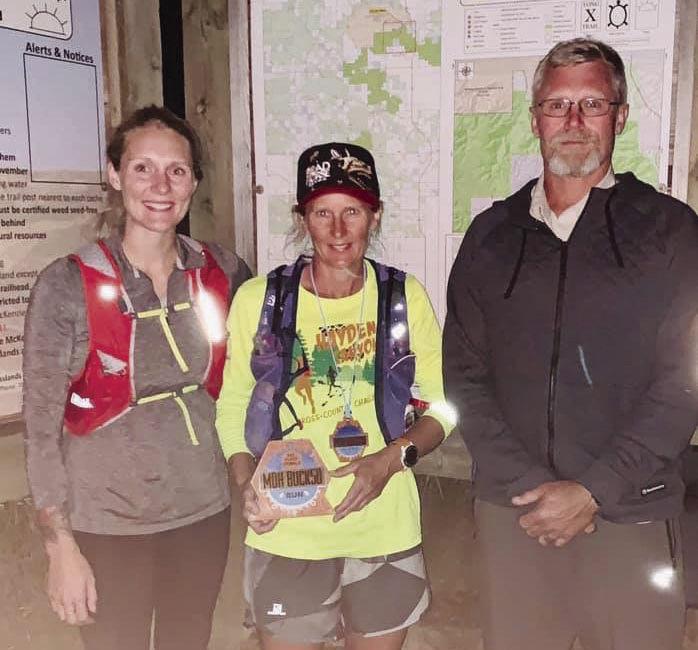 The facts
Sidney resident Sally Nelson recently broke the Maah Daah Hey "Buck-Fifty" Ultra Run record by completing 152 miles on a single track course with a time of 52:09:58 on Monday, Sept. 23. That's 52 hours, nine minutes and 58 seconds. It's Nelson's 17th ultra run completed (ultra runs are classified as anything over a marathon, which measure 26.2 miles).
The story
Nelson said she hasn't been a lifelong runner and picked up the hobby in 2005 to lose weight and get healthy. Since then, she's maintained her runner status by setting different race goals and accomplishing them. In preparation for the Maah Daah Hey run, Nelson trained with races and a personal running regiment.
"I did my first 100 [mile run] in 2018," Nelson said. "I've been running like 50-60 mile weeks since then. I ran a series in Moab, Utah, over the winter. I did a 50K in November, a 50-miler in January, another 50K in March, and then I did another 50K in June and a 100-miler in June, and a 50-miler in July. Those were my races leading up to that one."
With all the preparation, Nelson said she didn't experience a low-point in her most recent race, but that doesn't always keep the pessimism at bay.
"On this one, the first morning I asked myself, 'Why don't you just run 10Ks?' Nelson said.
With longer races, Nelson had a chance to stop at intermittent stations, with the shortest distance being 3.4 miles and the longest being 15 miles. She made sure to take a break when she needed.
"The clock doesn't stop from start to finish," Nelson said. "I think probably minimum [rest] time I spent was 10 minutes, but I slept the second night, Sunday night, for five and half to six hours."
Feeling refreshed from her rest, Nelson set back out on the trail, with her husband and daughter cheering her on along the way. Looking back on the experience now, the seasoned runner said she hardly remembers large portions of the race. Toward the end, there were miles she walked, fought through nauseousness, chills and her the feeling of her body wearing down. Ultimately, Nelson said, it boils down to a mental battle and new runners need to remember to start small first.
"You can do it. It's mental," she said. "If you can run a marathon, you can run a longer distance. At that point, it's mental. Making yourself keep going when you don't want to."
What's next
Nelson will be hitting the trail again soon, with an ultimate run measuring 240 miles in a year from now in Moab, Utah. The loop goes over two mountain ranges, topping out around 11,000 feet in elevation, and drops into the desert. On Jan. 31 through Feb. 1, she will run a 120-mile race in Florida.
Her next big goal? Going the distance while tackling elevation, humidity and heat.