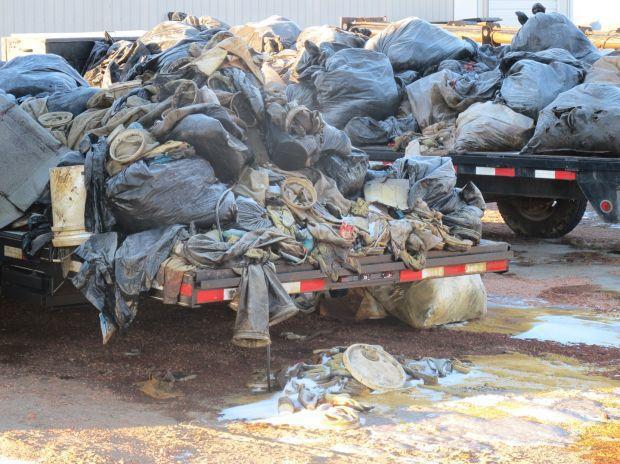 1 On Tuesday, Sept. 24, at 7 p.m., at the Glendive City Hall, 300 S. Merill Avenue, Glendive, the Department of Environmental Quality will hold a public hearing to consider the proposed adoption of new TENORM disposal regulations. Before the hearing, on the same day, at 6 p.m., the department will conduct an informal public meeting to discuss the proposed rules and answer questions pertaining to these rules.
2 TENORM stands for technologically enhanced naturally occurring radioactive material. It's usually exposed due to due to activities like manufacturing, mineral extraction or water processing. New regulations would increase the amount a facility may receive during a single load of waste from 50 picocuries to 200 picocuries per gram of radium.
3 Montana Department of Environmental Quality (DEQ) looked at several states that deal in similar industries before coming up with the proposed regulations. Those states include Texas, Wyoming, North Dakota, Oklahoma and South Dakota.
4 Waste & Underground Tank Management Bureau Chief Ed Thamke said the types of landfills in North Dakota sets the state apart from proposed Montana regulations. North Dakota limits the tonnage in industrial landfills to the 25,000 tons, but they also don't currently have a TENORM disposal facility in the state. A landfill near Williston is working on that.
By comparison, Montana doesn't limit the amount of TENORM waste to 25,000 tons. What Montana does is require the disposal facility to maintain documentation of the average concentration of the waste being accepted. That data is monitored over time to ensure facilities are not exceeding 50 picocuries per gram on average.
5 What Montana also does differently is ground and surface water monitoring. It's a little stricter than North Dakota and Thamke said the neighboring state is looking at what Montana is doing.
"We've always had that eye on each other to make sure we are being consistent across that border," Thamke said.
6 Waste acceptance criteria at the gate, an average of 50 picocuries per gram, has raised some eyebrows, Thamke said.
"People think, 'How can you maintain that average if you're letting 200 picocuries through?'" he said. "We don't anticipate every load that shows up at these facilities is going to be high. What we're trying to do is allow these facilities to accept an occasional high load, such as filter socks or surface contaminated pipe, that sort of thing. Overall the percentage of those types of materials in the waste stream is a pretty small percentage. But if we don't create a situation where they can be legally disposed of, then they are illegally disposed of."
7 While these proposed regulations are being implemented in a new manner, they are not new regulations overall. Thamke said the Montana Solid Waste Act has been in place since the 1970s and since then there has been a regulatory framework for solid waste management.
The new regs address waste facility construction, operations, monitoring, spill reporting, financial assurance and post-closure care of facilities.
8 Disposal facilities are not currently operating without regulations. What's different about the proposed rules is they more specific to TENORM — what to monitor, where and in what units. There's one facility operating in Montana for disposal of TENORM — Oaks Disposal 25 miles outside Glendive. The proposed regulations were previously used a permit conditions in order for the facility to operate.
9 The difference between this rule package and the one proposed in 2017 is the DEQ "beefed up" regulations concerning for ground and surface water monitoring, as well as air monitoring in and around facilities, Thamke said.
10 Buzzwords like "radioactive waste" have made TENORM a bit of a hot topic, but Thamke said people should know the waste isn't in the same category as nuclear waste.
"I will say these regulations are designed specifically to manage the very, very low level waste that would come not only from oil and gas waste productions, but TENORM is also associated with public waste water treatment," Thamke said. "These rules would apply to waste water sludges as well. There are a variety of industrial processes that produce technologically enhanced naturally occurring radioactive material."
11 NORM is present in common household items, including bananas at 4 picocuries per gram (pCi/gm), Brazil nuts at 6 pCi/gm, cat litter at 5 pCi/gm, coffee at 27 pCi/gm, granite countertops at 27 pCi/gm, and phosphate fertilizer at 123 pCi/gm.
Written comments can be snail-mailed to DEQ offices at P.O. Box 200901, Helena, MT 59620-0901. Otherwise comments can be emailed to Sandy Scherer at sscherer@mt.gov. Comment can be collected at the public hearings in Glendive on Sept. 24 and/or in Helena on Oct. 10.