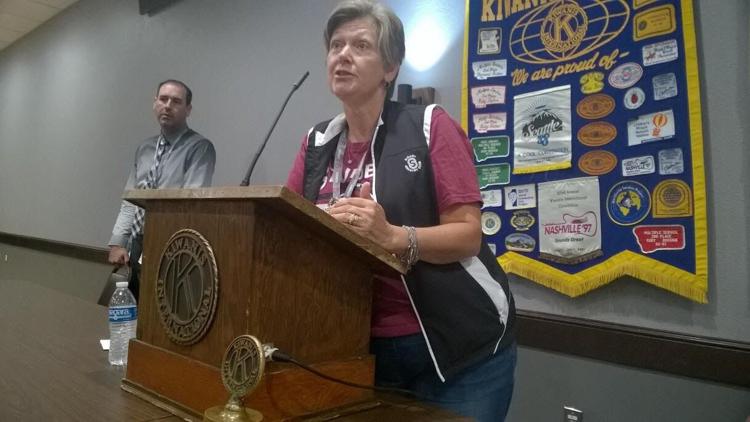 More than a dozen new teachers were introduced on September 3 to the Sidney Kiwanis during the group's weekly meeting.
Brent Sukut, a recent inductee to the local Kiwanis, was invited to speak at the meeting. Sukut, superintendent of Sidney Public Schools (SPS), began on a positive note. He pointed out a lower number of new teachers were hired this year than in the recent past because of less attrition.
"Not a lot of turnover, actually," Sukut told the packed room of Kiwanis members and guests, who meet each week at the Elks Club.
"We did transition to a four-day week, which is pretty much of a perk for teachers," he said, noting the school year began smoothly, largely because Richland County has a low number of active coronavirus cases.
"We are in a great place," Sukut said, alluding to the modest number of new, active COVID-19 cases reported by the Richland County Health Department during the past few weeks.
"We wanna make sure we keep ourselves safe, and others safe," the superintendent said as he transitioned to a subject that's dear to everyone in Sidney — sports.
"We have football next," he said. "That's really exciting."
Before introducing the principals, Sukut informed the Kiwanis of a procedural change that will allow a limited number of parents and guests from visiting teams to attend games and matches in Sidney.
Sukut — the former principal of Sidney High School, who now oversees all K–12 schools in the district — introduced two SPS principals.
Kelly Johnson, principal of Sidney Middle School, also touched on sports. She noted the Kiwanis' traditional involvement at Sidney High School football games and other athletic events.
"As Kiwanis, just know that we will still be taking [tickets] at the gate," Johnson said after she was introduced by Sukut. "We will still be taking money, but the tickets will be required. That's just a big new procedure for us this year."
In addition to Johnson, Sukut introduced Sara Romo — principal of Central Elementary School in Sidney.
Each principal introduced her respective new teachers to the Sidney Kiwanis.
Here are the teachers, as provided by Sidney Public Schools staff:
• Tommy Baldwin: 4th grade
• Emily Brown: Kindergarten
• Sophia Ekness: 1st grade
• Sherri Maki: MS SPED
• Taylor Polkow: 4th grade
• Kristen Takeuchi: 3rd grade
• Hailey Steinbeisser: WS PE
• Katlyn Winter: 2nd grade
• Kim Youngquist: K-1
• Ro Kendall: Kindergarten
• Kelsee Kampbell: CS Library
• Kelly Alvstad: HS AG
• Colin Gartner: HS IA