Local conservatives took a hard stance on the Second Amendment and the rights of "preborn children" at a community meeting on Monday, Jan. 20. The charge was led by the Rev. Jordan Hall, who called the effort to protect gun rights kind and loving.
"Some have suggested that declaring ourselves a sanctuary for the Second Amendment is picking a fight," Hall said. "But I want to suggest to you it is nothing but kind and loving to preemptively tell the government that if they pass laws against our Second Amendment rights we want them to know ahead of time, they can have them when they pull them from our cold, dead fingers."
Sanctuary counties for gun rights have gained traction recently, with communities in Virginia making such declarations in the face of proposed gun control legislation. The revolt quickly gained steam, with the Associated Press reporting more than 100 cities across 19 states adopting similar resolutions.
Such resolutions have no actual legal effect, but Hall and other Richland County Republicans are asking County Commissioners to adopt resolutions to establish community beliefs. Hall told the crowd Monday night that 75% of the county is Republican and of the 25% that are Democrats, he believes many of them want to protect gun rights and are anti-abortion.
"We can do it if we decide to do it," Hall said. "No one can stop us if we want to assert our constitutional freedoms."
Hall asked for Richland County Commissioners to affirm in writing through a declaration that the county will "resist any tyrannical or unconstitutional gun controls measures" that may happen in the future. Montana does not currently have any proposed gun control measures proposed for the next legislative session, as bill draft requests will be not be filed until later this year.
When the meeting shifted to anti-abortion sentiments, Hall said Richland County is a place of strong values.
"If we believe that all human beings are persons whether or not they are in the womb or out of the womb, they deserve life," he said. "In Richland County, we believe that the unborn are persons. They should be seen as persons. They should have the right and opportunity that everybody in this room has, which is to live."
Attendee Russ Unruh questioned Hall's references to the right to life.
"In this resolution for right to life, you state only part of what the Constitution says," Unruh said. "That is everybody is endowed to the inalienable right to life, that's what we're arguing, liberty, but it also says the pursuit of happiness. This declaration right here is going to negate that third right."
"Are you assuming that the right to life is at odds with the right to happiness?" Hall asked.
"To some people it might be," Unruh said. "That person's absolute pursuit of happiness might not include wanting to have a child at that time. Therefore one is against the other."
Hall held up a photo of fetuses and told the crowd he believed they have the right to life, liberty and happiness.
"That would be my take," he said. "Too bad we can't ask them. We're killing them too fast."
Other citizens attending the meeting expressed concerns over the potential alienation of citizens who don't agree with the resolution language, saying Hall makes it seem as if people who aren't with him are against him with no middle ground.
"I have some concerns about even the way you responded to that gentleman that if I am in not for you in every dit and dot and dash, then I'm a villain," one woman said. "Just because I may not agree in everything that you're doing does not mean that I'm a villain. It means I have a brain."
The woman urged the crowd and Hall to be careful about how militant the group becomes about the issue. She said as a supporter of Sunrise Women's Clinic, but not a representative of the organization, the mantra practiced is mercy, compassion, kindness and love without judgement.
"You change the culture of your community into a culture of life instead of a culture of death," she said. "All those things Richland County has and that's why there's so many people here. But there's some danger of making Richland County a democratic county in some of the things that we do by vilifying people if they don't agree with you on every count."
Hall thanked her for her sentiment, but said he doesn't know how not to vilify people who are pro-choice.
"I'm one person with one opinion," he said. "I may not be the person to write the press release. I may not be the spokesman. But if we could all please agree that we should stop killing each other and stop killing babies then we could move forward."
Hall spoke about the upheld Montana Supreme Court decision in 2019 to allow properly medically trained midwives to perform abortions in the privacy of a person's home.
"We are one of only eight states that allow that atrocious practice," Hall said. "And we're the only state with a court ruling like that on record that basically codifies it into law."
Hall blamed Planned Parenthood for "putting so much money in this state" for the Supreme Court decision.
"Midwives should be those giving life, allowing life, saving life, not taking life," Hall said. "I don't think there's the slightest thing controversial about that."
County Commissioner Shane Gorder, who is also president of Montana Association of Counties (MACO), answered questions about how the county can address the proposed resolutions. Gorder said the matter will be vetted with MACO, who is the insurance provider for the commission, to ensure the county won't get sued.
"We can't discuss nothing until we see what you have for a resolution and what you have for a petition," Gorder said. "We're here tonight to listen, to learn, observe."
Gorder said according to Hall, in about a month or so a resolution and petition will come before the commissioners. A petition was being passed around the meeting on Monday night.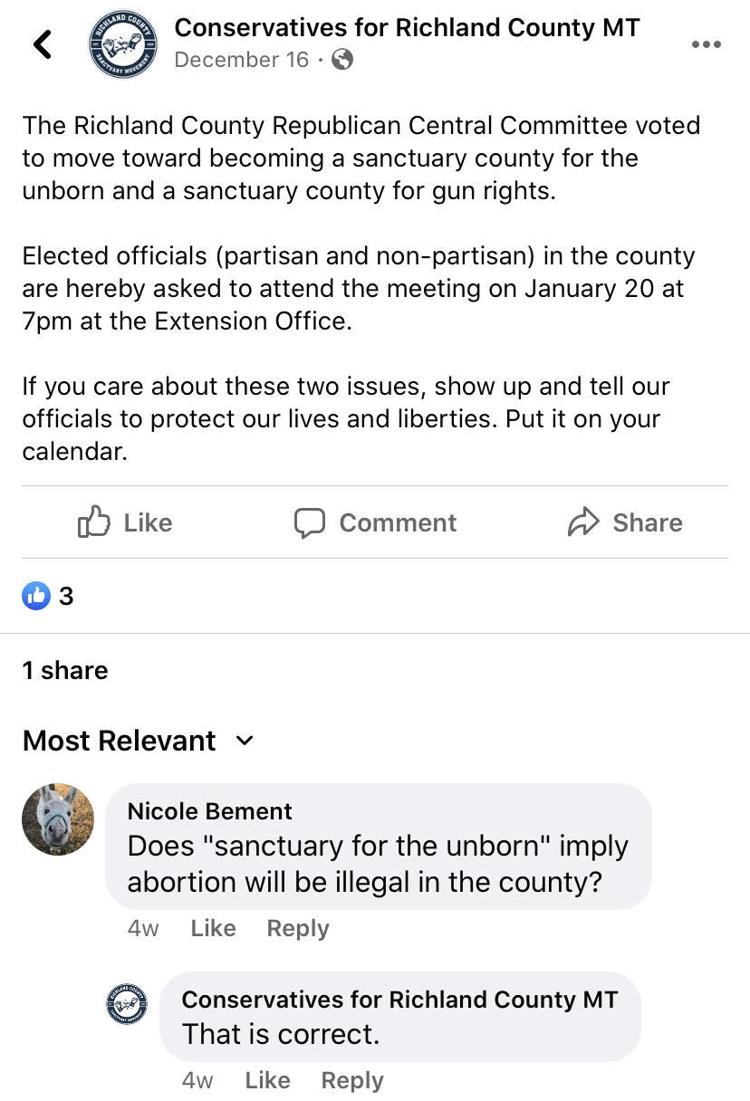 Resolutions do not have the same legal effect as an ordinance and rather serve as an expression of opinion of a governing body and can be used to manage county government operations. If the resolution comes before the County Commission, a time for public comment will be reserved. Richland County would be the first county in Montana to pass a resolution if it gets to that level, however Fallon County has had similar efforts ongoing since early 2019.